How to design croc charms?
Croc charm is very popular now, people like to put good looking charm on the croc. Designer play important role on how to design even you provide a file. Since there are standards on designing and manufacturing and we are expert to avoid disadvantage.  Our team offer free mock-up before ordering. Let me tell some tips on how to design.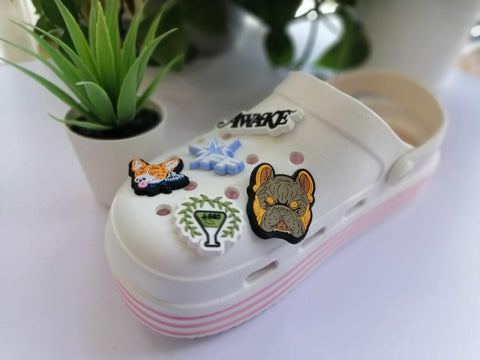 What file should customer provide ? Almost all graphic design format is okay. Most clients send us basic like an image, but it need to be clear enough, since our designer will draw the outline of logo from the image. Other like AI, PDF and PS file will be more appreciated.
The ideal size of customized croc charm is 1 inch length or width. But for some characters like giraffe, bus etc, we can make it longer to 1.4 inch. But the smallest part should be at least 9mm to connect the button to it.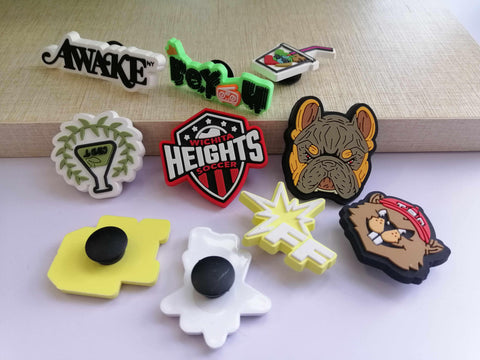 Your logo is embossed from the main tag of the charm. For the charm of multi colors, the logo consist of spots of different colors, the spots can be smallest to 0.3mm diameter. Like the strawberry charm, red body, green leave and many black seeds upon. So the seeds need to reach our standard.
Block of different colors need to be separated by a line, we call it recessed line. For certain design, recessed line is also good role to make logo more detailed. Like the wrinkle of face, hair style, even the outline on the wing of bee. Recessed line normally 0.4mm bold.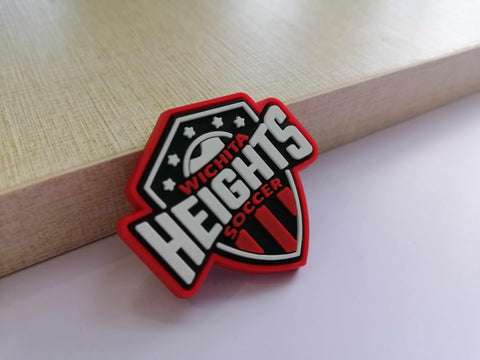 A croc charm is composed of base tag layer, logo layer and button. We can make the main part of several layers, no more than three.  The tag is first layer and single color, logo is on second and three layers. We make most of deigns in 2 layers. Sometimes, there are small text in the logo. If we put the text and other block in the same layer, will find it not enough space. Then we can make the small text on one single layer on other layer. It shows good this way. Believe it or not, logo looks better with black background than white.
If you have any comment on this, please leave us message.
---